Squatting is a fine old English tradition!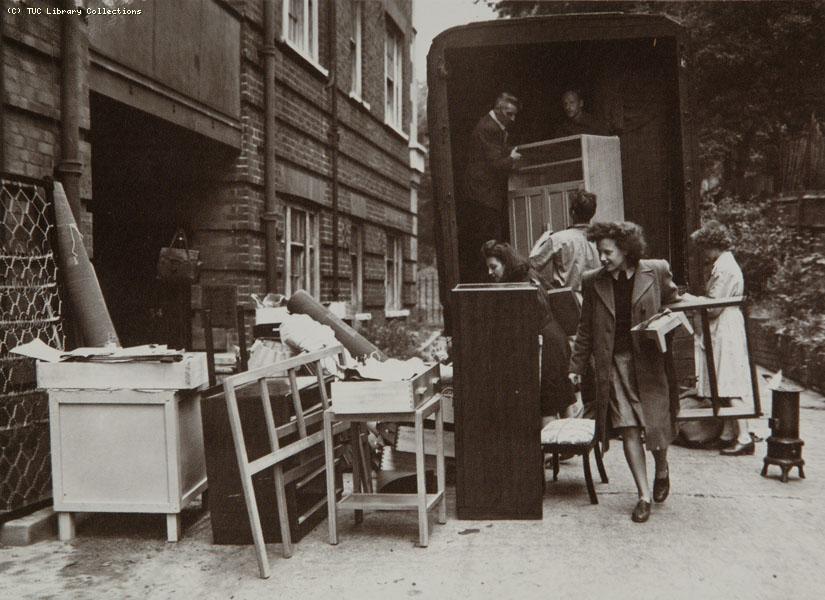 FURNITURE TOO!
Squatters at Duchess of Bedford House, Campden Hill, Kensington, 1946.


(Photo TUC collection)




THE Con Dem government is bringing in a new law to make sqautting illegal. At present it is unlawful activity, but only a civil offence. Under the law being promoted by Home Secretary Kenneth Clark the police will not only be able to evict squatters from residential property but to treat them as criminals, who could face prison sentences.
As the Torygraph reported on March 18 last year:
"A senior Whitehall source told The Daily Telegraph Mr Clarke has made changing the law a priority because he is sick of seeing cases of law-abiding people fighting to regain possession of their properties. The source said: "Ken has had enough of seeing hard working home owners battle to squatters out. He is determined to use the full force of the law to save people from the nightmare of having to fight to get their houses back.
"The days of 'squatters' rights' will be over."

For a party called "Conservative" the Tories are good at taking away our age-old rights, with the help of their coalition partners who are "Liberal Democrats".
The media has obligingly provided stories of families returning from holiday to find a bunch of strangers occupying their home, and outrages like these:
" In 2009 squatters moved into David Blunkett's former grace and favour mansion in central London while others took over a £33 million house close to Nigella Lawson's home in Eaton Square, central London".
http://www.telegraph.co.uk/news/uknews/law-and-order/8388795/Squatting-to-be-made-illegal-vows-Clarke.html
This doesn't leave much space to raise a fuss about families who are losing their homes to be repossessed, or those who will face hardship and possibly homelessness because the government is putting a ceiling on housing benefits but would not dream of pegging rents. Their 'ceiling' could take away your roof. In London the number of people having to claim housing benefit is going up, as more people face wage cuts or lose their jobs, while landlords keep upping rents. Homelessness is also expected to increase.
So the politicians who like to preach "self-help" are taking a precautionary measure criminalising people who help themselves to empty property. The reference to it being "residential" does not specify that anyone is already living there. Those are cases for newspaper stories. But £3 million properties can remain empty for years. Then there are those more modest properties which local authorities board up, as Tory Westminster did, because they want to reserve them for sale.
In the 1970s there were entire streets left empty by "planning blight", having been taken over for redevelopment which was then postponed because funds ran out. In two cases I know local, often elderly, residents petitioned the council not to evict those nice young people squatting across the street because without them the places would be dark and derelict, prey to less desirable characters and rats. Sympathy and safety concerns went hand in hand, and the councils listened. But things have changed.
Yet squatting is traditional, or else you would not have "squatters' rights". Sometimes it has been a popular movement. After the Second World War, Britain had its pre-war legacy of overcrowded slums compounded by the problem of thousands of people who had been bombed out of their homes. Service personnel returning home determined that things must change found their families lodging with relatives or friends. Meanwhile, though promised house building was slow to get moving, the government still had lots of properties on its hands, from army camps with nissen huts to luxury blocks that had been requisitioned for officers.
One such place was Abbey Lodge, in St.John's Wood, near Lords cricket ground. Before it could be returned to private owners it was being refurbished and redecorated, under the auspices of the Ministry of Works. One evening as the workers were leaving, one man hid himself in a cupboard and waited till the rest had gone. Then he slipped out and opened the front doors, and up rolled the furniture vans and lorries, with people from Kilburn and other districts who needed homes. Abbey Lodge was squatted, or occupied!
The authorities responded by besieging the place with police to prevent food being brought in, and Labour's Housing Minister Nye Bevan wanted electricity and water supplies cut off, though the medical profession warned of the health risk if water was stopped.
Thousands of people rallied outside to challenge the police, blocking the main road for hours. I've begun with Abbey Lodge because I first heard about this in the 1960s from a Willesden trade unionist who had been one of that crowd outside. But Abbey Lodge was one of several places taken over like this.
For ex-marine Arthur Hill, living with his wife and baby in one room in his gran's house, where Mum and Dad also lived, was getting too much. So were rebuffs from the council housing department when he inquired about getting rehoused. He'd heard about people moving into disused forces camps, but "had enough of Nissen huts". Then "early one Sunday morning Ginger phoned to say that a large group were preparing to squat in a block of luxury flats in Kensington, that I dropped everything and went.
"This was it, the BIG ONE! The first ever mass squatting. We hit the headlines! Not that we ever had time to read them, but Monday 9th September 1946 The Times ran a headline:
'1500 SQUATTERS OCCUPY LUXURY FLATS
— AUDACIOUS OPERATION IN WEST END'

The Duchess of Bedford House in Campden Hill was invaded, there must have been at least 200 of us, and we went straight in. Somebody had opened everything for us, and it was just like staking a claim, - and we did!"
http://www.bbc.co.uk/history/ww2peopleswar/stories/01/a2053801.shtml

I used to think of organise squatting as an urban thing, but the countryside had its housing problems too, and still has, from tied cottages and poor facilities to cottages priced out of the reach of working people because they are wanted for weekending commuters and gentrified.

At the end of the Second World War, there were different kind of invaders, people who had been moved around because of the war, either those in the armed forces, or workers whose factories or offices had moved out, or evacuees displaced from the city because of the blitz.

The war had shaken up people's ways of thinking too. Hadn't Londoners needing shelter from the bombing taken over the Underground stations at night? And if you had been in the forces, particularly in the kind of outfit where you are not only organised, but expected to use your initiative, and take places over when needed, might it not ocur to you to do the same in a concerted way in civvy street?

Chalfont St.Giles is a pleasant little place, known for Milton's cottage (the poet and Cromwell secretary had been advised to get out of London for his health) and the nearby Chiltern Open Air Museum, old pubs around the village green, and overlooked by pastoral land and some quite expensive desirable homes. Not the sort of place you'd expect to figure in class war history. But it does.

This episode even made

Time

magazine:

"Britain's Labour Government, long under fire for failing to straighten out the housing shortage, last week had a revolt on its hands. The leader was a lean ex-Commando-man, John Mann, of Chalfont St. Giles, Buckinghamshire. Mann had been sharing a small, unsanitary cottage with his wife, his five-year-old son, and ten strangers. At the local pub one night, Mann heard a Polish captain say that a deserted army camp at nearby Vache Park was being readied for Polish soldiers of General Anders' army in exile. Mann decided to get there first.
"At dawn, he and a handful of homeless veterans bloodlessly routed three Polish guards and seized Vache Park. Next day, 120 families had moved into the spacious army huts. After a flurry of resistance, local authorities capitulated.
"From Vache Park, the squatters' revolt swept over Britain. Near by, at Beech Farms, Chesham Bois, Polish soldiers raced squatters to grab empty huts, staked their claims by installing beds. When they returned with the rest of their belongings, the beds were on the lawn, the squatters in the huts. At Prestwick, Scotland, R.A.F. men were called out of movies and dance halls to guard their quarters. At Chandler's Hill Camp, Iver, Buckinghamshire, soldiers sent vain S.O.S. calls to the police when the squatters moved in, wound up amicably sharing the camp with them. At Hamilton, Lanarkshire, 19 squatters each paid a £1 fine for trespassing, then marched from court right back to their commandeered camp. Into the anti-aircraft establishments at London's Cricklewood Park, a veteran named Arthur Bunce led 15 families. Said his major: "Jolly good luck to you, Bunce. I would do the same thing if I were in your shoes."
" Most of Britain felt like the major. But the Labor Government squirmed. A reporter asked the Ministry of Works how it stood on the squatters' revolt. 'Oh,' said a spokesman, 'we stand well back. But they must be going crazy over at the Ministry of Health, and they say at least 20 generals expired at the War Office.' Timidly the Cabinet recommended that all squatters who were occupying camps essential for military or civilian training should move at once. Instead, veterans even began moving into empty private homes.
"This strange new mood the BBC called 'orderly lawlessness.' The squatters were not just people who had grown tired of waiting for new houses. Many were people who had never had houses before. Said Squatter Violet Bree at Vache Park: 'Is it not wonderful? So much space! We used to live in one room with my mother-in-law—I was terrified of her. They say it will be ten years before we get a house, but I do not mind if we can stay here. There is another room behind there (they are going to knock a door through) with a telephone. I never had a telephone before.'"
http://www.chalfontstgiles.org.uk/squatters.htm

Then as now there were Labour Party members and trade unionists involved in militant activity, such as squatting, but the Labour leadership then in government took a dim view, even the left-wing
Tribune,
loyal to Bevan, denouncing the squatters as anarchists no better than thieves. The Communist Party was actively involved in organising and supporting squatters, and made recruits. But eventually it backed down, supporting a compromise under which London squatters moved out of places like Duchess of Bedford House to accept alternative accomodation, only to find themselves in an old Victorian workhouse.
Still, the squatting movement of 1946 may have lent some urgency to government housing policy, one part being the production of pre-fabricated housing, the famous prefabs, some estates replacing those former army camps.
There's an article on "The Squatters of 1946", looking particularly at the movement in Buckinghamshire, in issue 25 of
Socialist History,
and the author Paul Burnham is speaking tonight at a meeting of the
Socialist History Society, 7pm, at the Bishopsgate Institute, opposite Liverpool Street station.
http://www.socialisthistorysociety.co.uk/news.htm
Meanwhile for a bit of contemporary atmosphere around another of the London squats:
http://www.britishpathe.com/video/home-front-squatters
The man being arrested outside the Ivanhoe Hotel in Bloomsbury in this film was probably Johnny Morten, a Communist Party member, who had taken part in a deputation to Holborn Town Hall for the squatters in the hotel.
As the
Evening News
reported:
"When the deputation re- turned to the hotel he shouted up to a squatter leaning out of a first floor window.

Police told him to move on, but he continued to shout. He was then escorted by the
police to Tottenham Court-road police station, followed by a crowd, some of whom shouted 'Is this what we won the war for.'"
http://www.purplepoets.com/morten.html