The high price of telling the truth
Award-winning human rights campaigner murdered.
Natalia Estemirova found shot dead after being abducted
outside her home.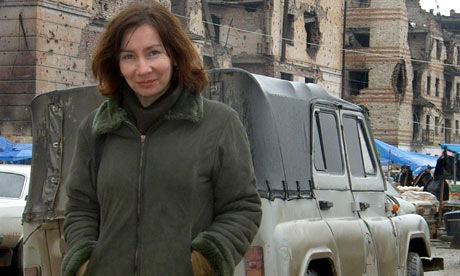 Natalia Estemirova in the Chechen capital, Grozny, in 2004.
IN some places there is a high price to be paid for trying to uncover and tell the truth, and standing up for human rights and justice. We can only marvel at the women and men who take that risk.
Natalia Estemirova was one of them, reporting on the kind of 'order' that reigns in Chechnya, since it was restored by Russian forces. .

This morning she was seized by four men as she left for work. Neighbours at her house in Grozny, Chechnya's capital, heard her shout: "I'm being kidnapped."
Her body was found near Gazi-Yurt village, in neighbouring Ingushetia. She had been shot twice in the head and chest, police said. Her corpse was dumped on the main road.
There was more than a similarity linking this to the murder of Anna Politkovskaya, the journalist shot dead outside her Moscow apartment in 2006. The two women had been close friends, and had worked together on investigations into human rights abuses in Chechnya. They were strong opponents of Chechnya's Russian-backed president, Ramzan Kadyrov..
Estemirova was the Chechnya-based head of Memorial, Russia's oldest human rights group. She recently collaborated on two reports into punitive house burnings and extra-judicial killings in Chechnya, allegedly carried out by government forces. They told how Kadyrov's troops shot 20-year-old Madina Yunusova and her husband near Grozny.
Chechen officials claimed her husband had been involved in a plot to kill Kadyrov. Yunosova died three days later in hospital under mysterious circumstances.
Estemirova made no attempt to hide her work. Her office near the newly renamed Putin avenue was well known.
Earlier this year Estemirova attended the trial in Moscow of four people – two of them Chechens – accused of involvement in Politkovskaya's murder.She later described the trial as a "farce".

Estemirova was also a close colleague of human rights lawyer Stanislav Markelov, who was murdered in Moscow in January. A masked assassin shot Markelov in the back of the head, not far from the Kremlin, along with Anastasia Baburova, a journalist with the Novaya Gazeta newspaper.

The Chechen people and their neighbours the Ingush were subject to brutal mass deportations during Stalin's reign. In more recent times the ruthless way in which Russian forces bombed and flattened Grozny, the Chechen capital, in order to crush insurgents, was a shock to the world. Ramzan Kadyrov - who denied any part in the Politkovskaya murder, saying he did "not kill women" - has been given charge of counter-insurgency both in Chechnya and Ingushetia. He is a close ally of Russian Prime Minister Vladimir Putin.
President Dmitry Medvedev has strongly condemned the murder of Natalia Estemirova. But it seems the brutality with which Russian leaders stamped down on insurgency in the north Caucasus has not only opened Chechnya to the outside jihadi influence which they now blame. It has created a poison which spills back into Russian society, ruining people's chances of enjoying real democracy.
Here in the West, which so many Russians naievely looked to as lands of freedom, and where so many Russian oligarchs and kleptocrats come to launder and spend their ill-gotten gains, we see so-called journalists fawning on leaders with power and wealth, filling the media with lies and trivia, and abusing their skills to pursue the lowest on the social ladder at the behest of their immensely wealthy proprieters.. We can only envy the people in Russia and neighbouring lands their courageous campaigners for justice and truth.