A Comedy of Terrors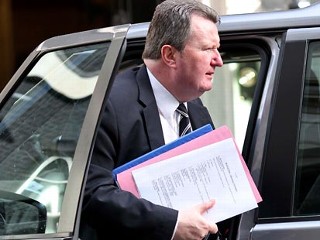 QUICK PHOTO-OPPORTUNITY with plan for 'Operation Pathway'
THE news on TV was sensational enough. Armed police at Liverpool John Moores University, a "terror suspect" forced to lie face down on the ground. Homes raided in Greater Manchester. Britain on high terror alert. Suspects linked to al Qaida..Gordon Brown claimed there had been a "very big plot" against us, and pointed the finger at Pakistan. Other MPs and newspapers said it was too easy for terrorists to come into Britain on student visas.
Police had "foiled a major terror plot", aimed at blowing up football stadia, according to the
Daily Star
, which had a photo of Assistant Commissioner Bob Quick arriving at Downing Street, with an armful of documents. "We are talking about something big", it quoted police as saying.
http://www.dailystar.co.uk/news/view/76027/Terror-plot-to-blow-up-top-footie-grounds/
Indeed. But what exactly is a matter of opinion.
It was Quick's strange behaviour in placing his terror raid document for 'Operation Pathway' on top of the rest so it could be seen for the cameras that was said to have forced the police to move more quickly (no pun intended) than had been planned, rushing to nab the alleged conspirators before they were warned and could escape.
That was on April 8. Cynics wondered whether it was a coincidence that a major terror plot was discovered so soon after we'd seen pictures of police violence at the G20 protests, so that, reminded of the terrorist danger we would close ranks behind the gallant police officers, who would appear once more in a different picture, as the thin blue line protecting us. Some ventured to predict that, as in some previous cases, following the initial publicity, the fuss would gradually die down, until the suspects could be released quietly without charges. (As happened in an earlier case, involving Kurds in Manchester, whose possession of tickets to watch United was taken as evidence of - a plot to blow up Old Trafford. You'd think whoever feeds the
Star
could come up with something more original)
After that dramatic scene of the young man on the ground at gunpoint outside the John Moores University library we learned the following day that it was a mistake, they had got the wrong guy. He had naturally been shocked by wht happened to him. Still, at least he was not a Brazilian electrician on his way to work.
http://www.guardian.co.uk/uk/2009/apr/09/al-qaida-arrest-student-liverpool
AC Quick had to resign after a row from MPs and the media over his mistake flashing the plan for the operation. Police spent a fortnight looking for bomb-making materials and equipment, apparently finding nothing (which would not have been the case had they raided schoolboys' bedrooms and back sheds in Cheetham Hill when I was a kid!). They switched to looking through computers. Still no conclusive evidence, it seems. By last night it was reported that all 12 men arrested had been freed without charges. Greater Manchester Police said the Crown Prosecution Service had said there was insufficient evidence to allow either further detention pr charges to be pursued.
Tory shadow security minister Baroness Neville-Jones said: "It is very worrying that, following an investigation based on strong intelligence into what the prime minister described as a serious terrorist plot, the police have not been able to present sufficient evidence to the Crown Prosecution Service on which it could lay charges against any of the 12 arrested."
The BBC reported that security services continued to maintain that a terrorist plot had been disrupted by the operation. The Guardian said MI5 had wanted the police to wait while more intelligence was gathered before making any arrests. "But in an example of the tensions between Whitehall counterterrorism officials and their counterparts in the police, the decision was made to take 'executive action' even though the intelligence suggested there was little evidence to charge the suspects".
Although the 12 have been freed, it looks like they are to be deported to Pakistan on "national security" grounds, except one who is a British national. Shami Chakrabarti of Liberty has expressed concern that in future the power to deport people on such grounds could be used on people for political rather than real security reasons.
http://www.guardian.co.uk/uk/2009/apr/22/11-men-released-anti-terror-raids
The cynics have not been proved altogether right. The big terror scare did not succeed in pushing concern over police brutality and repressive tactics against demonstrators out of the news this time. And the authorities have not been able to bury the news that those arrested as "terror suspects" have been released for lack of evidence.
Two worrying things remain outstanding among the farcical elements of this tale. One is that we are being accustomed to the sight of armed police forcing somebody they don't like the look of to the ground, especially if that person is dark-skinned, And too used to the news that people who have not faced any charge or court can be deported.
The other is that given we may still face genuine terror threats, which can mean innocent people being killed, too much crying wolf by the authorities and media can dull the senses, so that we are less rather than more alert.
Labels: Police and terror