Israel's Dr.Strangelove goes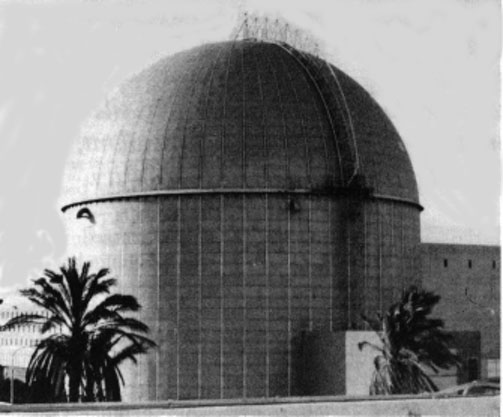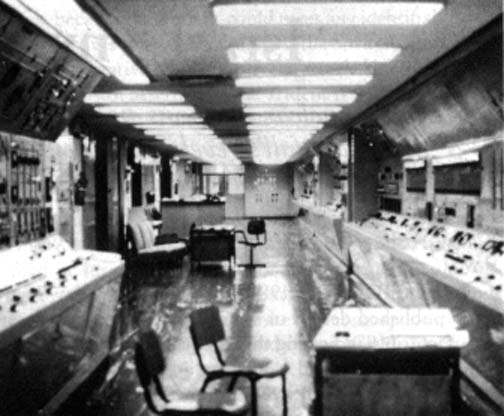 NAHAL SOREQ reactor,
and Plutonium extraction control room, Dimona.
(pix courtesy Mordechai Vanunu)
THE MIDDLE EAST has one warmonger less with the death last month of Yuval Ne'eman, 80 year old pioneer of Israel's nuclear weapons programme and head of its space agency. Ne'eman, an army officer turned scientist who also played an important part in developing electronic intelligence-gathering techniques, also founded Tehiya (Renaissance), a far-Right splinter party from the Likud which wanted Israel to grab yet more Arab territory.
Born in Tel Aviv, Ne'eman enlisted in the pre-state Hagana underground army, going on to command the Israeli army's Givati brigade and then become head of its planning department, and in the 1960s, deputy head of Aman, military intelligence. He collaborated with French military intelligence in its war against Algerian freedom fighters and preparations for the 1956 Suez war, and obtained their help in obtaining nuclear technology.
Ne'eman took a degree in chemical and electrical engineering from the Haifa Technion, and joined Israel's nuclear energy commission from 1952-61.
It was while serving as Israel's military attache in London from 1958-62 that he enrolled to study nuclear physics at Imperial College, under Pakistan-born Nobel physicist Abdus Salam. He went on to develop Israel's nuclear weapons programme at Dimona.
After an American U2 flight took photographs of the Dimona facility and the US government began asking questions, it was Ne'eman who drafted the official replies, and when Kennedy sent US scientists to inspect Dimona in 1962 it was Ne'eman who was back to show them around and make sure they did not see anything too sensitive.
Besides his government work, founding Tel Aviv University's physics and astronomy department and becoming Israel's first science minister in 1982, and the Space Agency the following year, Yuval Ne'eman found time for research in sub-atomic particles. He made a contribution to theoretical physics, and co-authored a book "The Particle Hunters" that was highly rated.
But whatever his brilliance as a scientist, Ne'eman's political evolution took him to the realm of the certifiably insane militarist. As Moshe Dayan's adjutant in the 1950s he had drawn up plans for attacks on Damascus, the Saudi oilfields, and the Lebanese port of Tripoli. He founded Tehiya in 1979 to oppose the US-backed peace treaty with Egypt, which entailed returning the Sinai peninsula, seized in the 1967 war. In 1982 he set up camp in the northern Sinai settlement of Yamit, vowing to resist, until just before the Likud government demolished it.
This extreme stand did not stop him being a cabinet minister. Not only did Ne'eman oppose any withdrawal from Gaza or the West Bank; but when Israel invaded Lebanon in 1982, he was the only cabinet minister to advocate annexation of southern Lebanon, including the port of Sidon and all the land up to the Litani river. This had not even been part of Biblical Israel, nor come to that was Gaza, but Ne'eman was a secular chauvinist rather than a religious fanatic. He supported the most extreme activists, however, including the Jewish terror network that made bomb attempts on three Palestinian mayors, in 1984.
When the first Intifada began, Ne'eman was for mass expulsions of Palestinian refugees. He rejoined a Likud-led coalition in 1990, again becoming science minister. But he left in January 1992, saying the "peace process" to which the government payed lip service was a "mortal danger" to Israel. But Tehiya was finished at the polls, and Ne'eman's super-military chauvinism rejected as off the wall and abhorrent by most Israelis. He gave up the parliamentary game, but did not retire completely. A new career beckoned him to the boards of American companies and institurions, and with the "war on terror" he joined a US firm specialising in electronic surveillance. Their loss is our gain.
· Yuval Ne'eman, physicist, intelligence officer and politician, born May 14 1925; died April 26 2006.
Labels: Israel